I am often inspired by my doodles.
Here is one that gave me an idea for a painting.
This doodle came about while talking to my girlfriend about wearing make-up. Actually, this conversation led me to research the facinating subject of masks.
Doodles can also reveal deeper truths.
During a telephone conversation with a cat lover, myself a dog lover, we discussed the differences, likes and dislikes, of cats and dogs.
A doodle emerged about a fond memory I had of Luke, a red Kelpie, now passed away.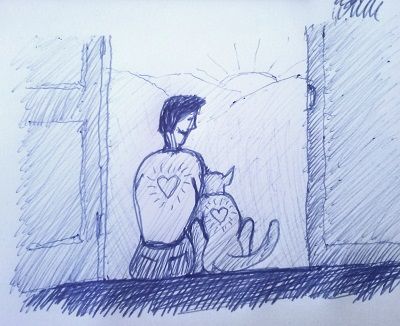 I was sitting on the back step, watching life go by when Luke came from behind and nidged me over to the left. Then he sat and leaned against me. Now both of us were watching life go by.
After the phone call, I noticed the hearts. Tears welled up in my eyes. It took this doodle to reveal a deeper love I had for my dog Luke.
Got any doodles to share?