My golly it seems quite some time since I posted on here.
I have recently returned to painting although it never really went away, it just 'slowed down' as to speak as other events in my life took over. These included the arrival our first grandchild and the first girl to be born in to my family with our family name for 109 years! I digress.
I have always been fascinated by the art from the Bauhaus movement and the balance in subject matter, colour and the general 'mechanical' feel to some of the paintings (and indeed the sculptures and every other aspect). I guess I do try to paint in a similar style (although it is only my interpretation from my intrigue) and try to capture the 'Bauhaus spirit'. Of particular interest to me is the work from the likes of Schlemmer, Moholy-Nagy and Kadinsky, but I also admire the whole concept as a 'design for living' which encapsulates more than just the 'art' itself. I have a friend who makes his living as a sculptor and we are working together with the concept of producing a piece from welded steel plate loosely based on the style I have adopted.
I am working on a new piece (not far from complete) and from there I have some ideas for painting in a meeting of Bauhaus and Maya art. I never realised until a recent visit to some Maya ruins in Chiapas Mexico that the two share share some common features, geometry, balance and in some cases a feeling of symmetry. I can't wait to get started. As an example here is a piece I completed a couple of years ago which hangs in the house and my present piece shares a common theme. Sorry the photo shows it in place, but time never allowed me to photograph it as a piece on its own as the photograph was taken for another reason.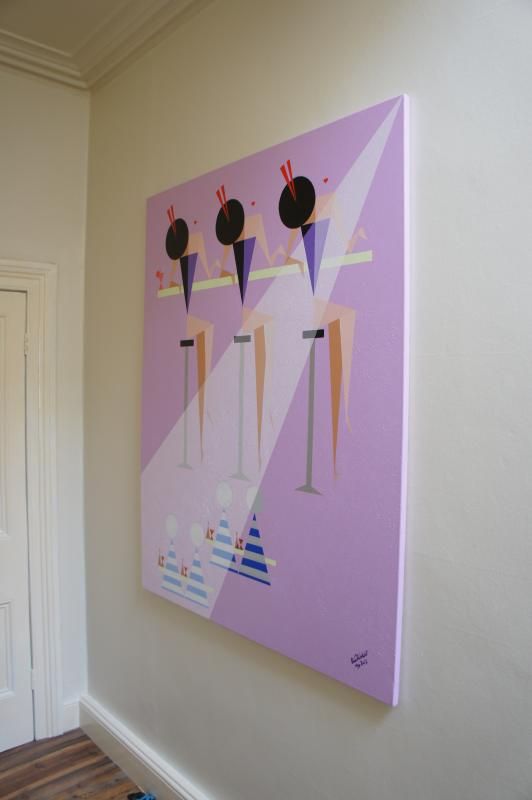 Is there anyone out there with any interest in the movement or who feel they may be influenced by the 'style' which emerged from it?
PS. Nice to be back here and posting again.